News
Art and the Environment in the Third Reich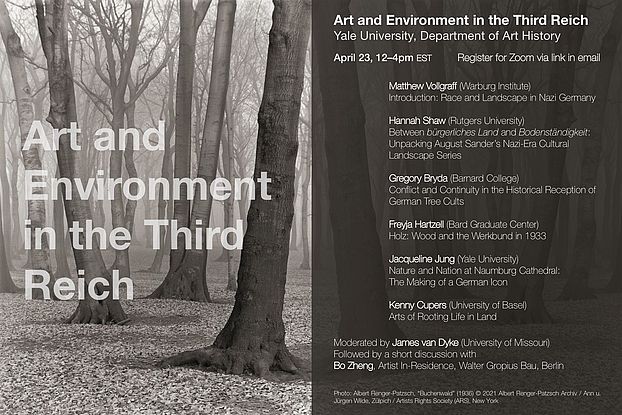 Hosted by Yale University's Department of Art History, the conference on art and the environment in the Third Reich brings together art and architectural historians working in medieval and modern fields to investigate the relationships between artistic practice, environmental science and eugenic politics under Nazism.
Through investigating the interrelations of race theories and landscape aesthetics, we additionally hope to draw critical lessons for reckoning with right-wing adaptations of ecological thought in the age of the Anthropocene. Following the six academic papers, we will broadcast a short discussion with Bo Zheng, the current artist in-residence at Martin-Gropius Bau, on how plants and politics intersect in his work and, in particular, his upcoming exhibition in Berlin.
Critical Urbanisms professor Kenny Cupers forms part of the aforementioned conference and will be presenting "Arts of Rooting Life in Land":
Focusing on architectural Bodenständigkeit in colonial Namibia and its afterlives in Nazi environmental planning, this talk explores the merits of a theoretical shift away from the Enlightenment-centered notion of modernity that has dominated the study of fascist environmentalism. Starting from the framework of coloniality as the dark side of global modernity, I suggest, allows for an alternative interpretation of fascist environmentalism—one not characterized by anti-rationalism, mystical kinship, or subversion of romanticism, but rather by an ideology that equates cultivation with colonization. Nazi approaches to landscape may thus be better understood as the re-activation and radicalizing of colonial arts and technics of rooting life in land, which entailed the annihilation of both existing ecologies and human life.
The event details are as follows:
Friday, Apr. 23rd, 6pm–10pm (Central European Time)
Register for Zoom link here.